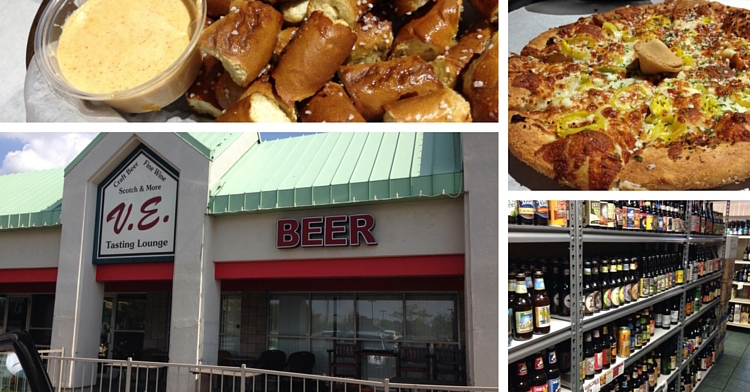 On my recent Date Night Part 1 article, I made mention of a little place in Ohio that is filled to the brim with an amazing selection of craft beer. It came to my attention that not everyone was familiar with this little slice of beer-lovers heaven, so I figured an article on it might work out!
Today, we loaded into the family truckster and headed to Boardman for a fun lunch at Vintage Estate! Timed from the Beaver exit on 376, it took us just about 45 minutes to get there. It is a drive, but one that is well worth it.
The Retail Areas
When you pull into the plaza, VE doesn't look like much. Honestly, the first time we went we were shocked. We thought we had the wrong place and we were formulating the complaint text to our friend that recommended it. You would never know how much happiness is within those doors until you walk through!
Following the signs out front, you enter through the door on the right. First up is the wine room. While I do enjoy wine, I don't know much about it and usually beeline through this room into… (drum roll)… the beer room. BUT. For you winos out there, they have over 1,000 bottles available for purchase as well as wine on tap, and a pretty awesome wine bottle deal based on the number of bottles you buy.
But.. the beer room. This is the spot, folks. There are over 1,200 different kinds of beers lining the walls and in the coolers. Different countries, breweries.. you name it, they probably have it – but if they don't, they can get it for you. On this particular trip, I was excited to pick up an assorted six pack to go. Since I was driving, I could not enjoy the sweet, sweet nectar while I was there.
Remind me never to be DD again when we go here, ok? More on my picks later…
The Tasting Lounge
Moving along through the beer room you enter into the bar, aka the Tasting Lounge. It's a bar just like many bars you have seen before, but this one has an amazing 29 beer draft list that changes often, a mead bar, and a massive selection of single malt scotch and bourbon (as well as that wine I mentioned a few paragraphs up).
Finally, the last room is the fireplace room. A cozy spot with tables to sit while you eat, drink and spread merriment, and a big sectional couch rounding the fireplace for your even cozier needs. We brought the kids in here, and granted it was a Tuesday afternoon, but this was the perfect spot. They were loud, but nobody else was around. On a weekend it is a much different story, so keep that in mind if you plan on heading out with the kiddos. It can certainly get busy!
And the Food!
The next awesome thing about this place is the food. The flatbreads are absolutely amazing! We ordered a plain cheese flatbread, thinking it would be good for the toddler. While it most certainly was, we had to order more for the adults when we all tasted a delicious slice! The table also shared a Great White Flatbread – A flatbread with olive oil, banana peppers, mozzarella, provolone and asiago cheese. Yuuuum .
Along with the flatbreads, a must-try is the gruyere dip and homemade pretzels. It has a spicy kick to it, but not overpowering and the pretzels put out that small fire nicely. Paired with a beer and yes, sir. That is delicious. I'm going to make a pretty bold statement here. That dip and pretzel appetizer is probably my favorite appetizer of any place we frequent. It is just that good.
Another big menu hit are the lupini beans. I have heard these are an acquired taste, but I can't imagine why. They are salted and tasty. Another great beer snack!
But, back to the beer. On this visit, Vintage Estate had started putting out their Oktoberfest and pumpkin beer selection, so we had a lot to choose from! I went with one pumpkin beer, one Oktoberfest beer, a Not Your Father's Root Beer, and a few other random finds. I can't wait to taste them and check in on Untappd!
Vintage Estates is located at 7317 South Avenue in Youngstown, and they are online at vewinebeer.com. Their hours areMonday – Wednesday, 11am-11pm, Thursday-Friday, 11am-12am, Saturday 10am-12am, and Sunday 11am-10pm.
The beer and wine lover in your life will love this place! Be sure to check it out!