This article is brought to you by our friends at Beaver County Auto. Visit them on Facebook by clicking here.
The Maple Syrup Festival in Brady's Run Park is a Beaver County tradition, so it's no surprise that it was voted "Best Event in the Valley!" All-you-can-eat pancakes, the smell of sweet maple syrup catching on the breeze, and dozens of local crafters. Rain or shine, thousands of residents look forward to the first weekend in April to board a school bus and shuttle their way to family fun and an awesome breakfast.
We have the Beaver County Conservation District and all of its volunteers to thank for the hard work they put into making the Maple Syrup Festival a success. These men and women dedicate their time for months ahead, tapping 3,500 – 4,000 maple trees in January before carefully processing the sap into delicious syrup at the Sugar Shack, milling corn, wheat, and buckwheat to make pancakes, and coordinating vendors and entertainment.
Sunday morning we loaded up in the car, dreaming of stacks of buttermilk pancakes (our little one insisted that he would eat "a squintillion-and-one"). My other half is to credit for all the photos from the festival – he was a good sport and teamed up with me to share the Maple Syrup joy with our YBC audience (thanks, honey!).
We headed in from the Rt. 51 side, finally finding a parking spot waaaay at the end of the horse arena:
Bradys Run is like our second home, so we walked the bike trail, but plenty of people took the free shuttles from either end of the park to get dropped off at the magical bridge to deliciousness:
Growing up in Brighton Township, I went to the Maple Syrup Festival every year as a kid – sometimes volunteering, sometimes just to eat and enjoy. Waiting in line to eat pancakes in The Lodge is a given, but I have NEVER seen it as long as it was this year! It took up three-quarters of the gravel loop, putting us close to the live entertainment but far, far away from full bellies…
I have a confession: after making it only 50 feet in 30 minutes, we convinced our son that it would be a good idea to buy a jug of maple syrup from the stand and make a squintillion-and-one pancakes at home. We lost the survival game, but those that endured hours of patience were rewarded with fluffy towers of buttermilk and buckwheat pancakes served up by Boy Scouts: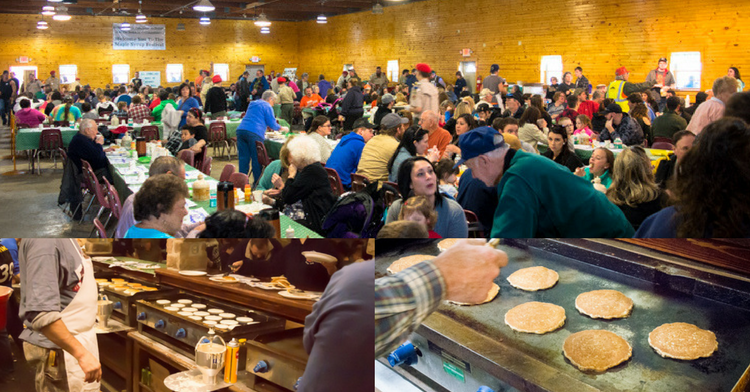 Since we missed out on the breakfast food, we headed up the hill behind the lodge (you can get hot dogs, meatball sandwiches, and nachos up there). Next door is The Sugar Shack, where the magic is made. Paul Farkas was inside, answering questions about how maple syrup is crafted from start to finish right there in Bradys Run. He knows his stuff! After 37 years of volunteering at the festival, Paul is retiring at 86 years young, but he's making sure the legacy lives on by sharing his expertise:
On the way back down the path we stopped at The Mill, where wheat, corn, and buckwheat (did you know buckwheat is a flower?) are turned to grain and sold by the bag. Pictured are Jerry & Lydian, who have both been volunteering there for 5 years:
The Maple Syrup Festival is a fantastic event for showing off Beaver County talent. The Beaver Valley Woodcarvers group always has a tent, where members sell their artwork and raffle off some amazing creations. There's something here for everyone, from wooden spoons to intricate fairy treehouses:
There were handcrafted items and demonstrations everywhere! Buckshot Kenny had gorgeous wooden mugs with real antler handles. Forged in Kol was on site with anvil and embers, demonstrating the fine art of metalsmithing. ElsaBlue Acres makes goat's milk soap, and brought two goats for everyone to enjoy. The Wampum Chapter of the North Country Trail Association was there helping kids make their own hiking sticks – we did this when they were at the Chippewa Bicentennial celebration, and it's a lot of fun!
In addition to food and handmade goods, the Maple Syrup Festival is full of history and heritage. The civil war reenactments make me jump every time, but watching the squad firing off old muzzleloaders makes for good entertainment while waiting in line: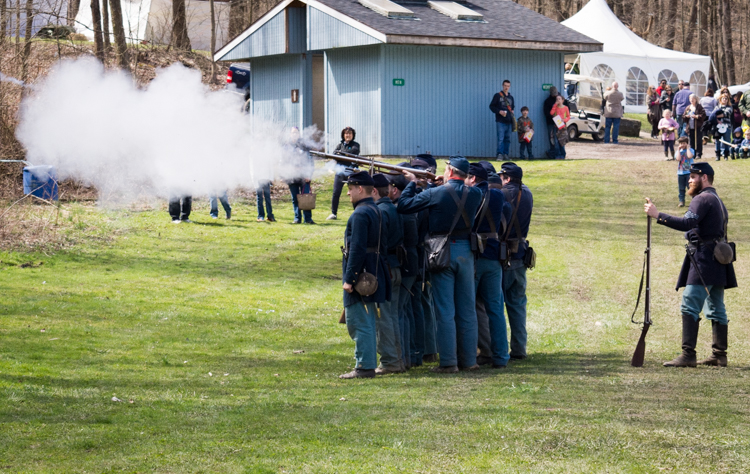 Near the pony rides (thank you, Thundering Hooves 4-H Club!) was a Ft. McIntosh encampment, with flag flying and volunteers dressed in period-style clothing:
We left with some trinkets, a half-gallon of 100% maple syrup, and this adorable memento thanks to ToonBrian Caricatures:
If you missed the Maple Syrup Festival this year, be sure to put it on your calendar for the first weekend in April. It's a fun family tradition set in our beautiful Brady's Run Park, and yes – the pancakes are worth the wait, rain or shine!