What are ghost signs, you ask? You've seen them: the remnants of past commerce that remain as faded murals that decorate the brick on the sides of buildings. In most cases, the businesses on the other side of the wall have changed dramatically over the years, but not always…
As a fan of art and local history, I thought it would be a fun adventure to search the area for Beaver County ghost signs. With my 5 year-old strapped into the backseat with instructions to "look for old, painted signs on the sides of buildings," we set off on a mission and found some really cool things!
Beaver Falls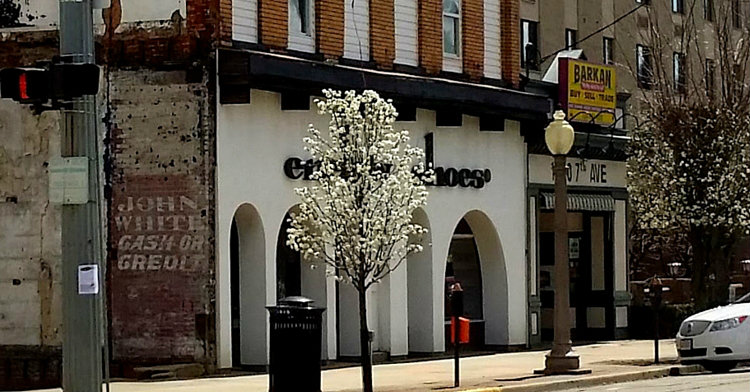 "John White – Cash or Credit" (On the side of Enelow Shoes at 7th Ave & 11th St)
Who was John White? I searched and searched, but couldn't nail down who this sign refers to.
New Brighton
"Strayer Coin Bag Co. Plant No. 2" (1030 5th Ave)
This one was an accidental find! We rerouted from the main street of New Brighton and came across this sign that still has amazing contrast for its age.
Strayer Coin Company serviced banks and offices in the area with supplies (e.g. zippered deposit bags) from 1914 until it was purchased by Troy Sunshade Company in 1992.
Rochester
"Goorin and Harris – Furniture Appliances" (On the side of the former Blue Violet Café at 156 Brighton Ave)
Surely you've seen the other artwork on this building put in place by the former Blue Violet Café – but did you ever notice the sign towards the rear of the building?
Goorin & Harris opened its doors in 1940, and provided Beaver County homes with furniture, appliances, and carpet for decades.
"Beaver Alkali Products" (Next to Beaver Valley Bowl at 25 New York Ave)
I remember going here with my dad as a young girl to get chemicals for our backyard swimming pool. For a moment, that made me feel…like not such a spring chicken, we'll say. Our pool hosted years of childhood memories in crystal clear water thanks to the experts in this building!
"Beaver Valley Bowl" (25 New York Ave)
Beaver Valley Bowl needs little introduction. This bowling alley has been an entertainment venue for Beaver County residents since 1953, and of course – was the set for a scene in Kingpin, putting our little rivertown of Rochester onto the big screen!
Monaca
"Campbell Moving & Storage" (On the side of Ball Furniture Outlet at 308 9th St)
After driving through downtown Monaca, I was disappointed because there were no ghost signs along the main stretch…until I went to cross the river again.  BAM!  Behind P-Dubs is this masterpiece!
The building is now owned by Ball Furniture, but its previous tenant focused its business on getting people's existing furnishings from Point A to Point B in the first half of the 20th century.
Bridgewater
"Bridgewater Distilling Co" (Across from Monroe Auto Body)
This one is my favorite. I don't know if it's the rust running down from the bars over the windows, or the fact that it's nearly hidden in plain sight, but I love this ghost sign. It's easy to miss if you're not looking, but this building sits on the right on the road that leads to Bridgewater Crossing.
The company was short lived, but its proprietor was an interesting man.  Robert J. McLanahan was an insatiable entrepreneur; Bridgewater Distilling Company was one of his early endeavors, built in 1932 just before the end of the prohibition. It was sold just a few years later in 1938 to a company in Kentucky that was interested in the value of his grain. Ultimately, McLanahan's most significant achievement was the invention of a water-saving dual-flush toilet valve – a project he began way back in 1946! The Beaver County Times published an article in 1960 about McLanahan's work– you can read the whole story here.
Beaver
"Spearmint Gum" (on the west side of The Hostess Shoppe)
This was the ghost sign that piqued my interest for this article, and has proven to be the most frustrating! I cannot seem to find any information about this – except that it was a popular advertisement in the era. Lots of Wrigley's Spearmint ghost signs remain across the country; do any of you know the details about ours in Beaver?
Midland
Left: "?" (Midland Ave & 7th St next to Steelworkers 1212 building)
Right: "Maurice Newman- Beer Distributor" (Midland Ave. & 6th St)
The ghost sign on the left is a mystery, but it's prominent enough that I hoped that someone might be able to offer some insight about its history. What is that?
The one on the right marks what was once the primary beer distributor in Midland, owned by Maurice Newman. Newman was an active member of the community, serving on the school board and as a member of several fraternities and clubs in the area. I had the opportunity as a young teenager to see the inside of this building after it was purchased, and I marveled at how it seemed frozen in time – old glass bottles and signs decorated the inside, covered in a layer of dust. At 13, it felt like I was in King Tut's tomb, surrounded by treasures. It has since been converted into apartments.
Author's note: I drove to Midland specifically for this sign, and was saddened to see it covered by banner ads. The sign may no longer reflect the building's contents, but it's still a piece of local, historical artwork. Let it shine!
There are certainly more ghost signs to be captured across the county, and I haven't had a chance yet to make it out to the communities on the southern half of the Ohio. Comment to let us know your favorites and if you know any more interesting facts about these historical ads!
BC born & raised, Ella spent her childhood playing in the woods, and her teens exploring them on horseback. These days, when she's not on duty as a vet tech, she is busy staying active with her beau and their young son.
She is forever curious and has a playful personality, but is also fiercely driven and dedicated to her passions!