The 2015 Dicks Sporting Goods Pittsburgh Marathon is still months away, but for those of us crazy enough to run the half or whole marathon, this month marks the start of our training. While everyone else is inside under a blanket enjoying the warmth of their homes, we're outside putting in the miles and getting ready for the big day.
It takes more than a willingness to run in the cold to train for a marathon though. From training gear to proper nutrition, marathon training is no joke. To do it properly you need to plan ahead, get your gear ready, and most importantly prepare mentally for what's ahead. Sure, the marathon itself is one of the toughest things you'll do, but running daily in the freezing cold isn't all that easy, either.
A good marathon is won or lost in the winter months, so getting started now is the only way to successfully finish, let alone to do a good job at it. There's more to success than just running every day so we've put together a basic overview of what it takes to train for the Pittsburgh Marathon successfully, Beaver County Style.
Author's Note: I'm a two-time finisher of the Pittsburgh Marathon and am currently signed up for the 2015 full marathon. I'm far from an expert when it comes to running, but I know what works for me and my crazy, busy schedule. Trust me when I say that if I can finish the marathon you can too.
About the Pittsburgh Marathon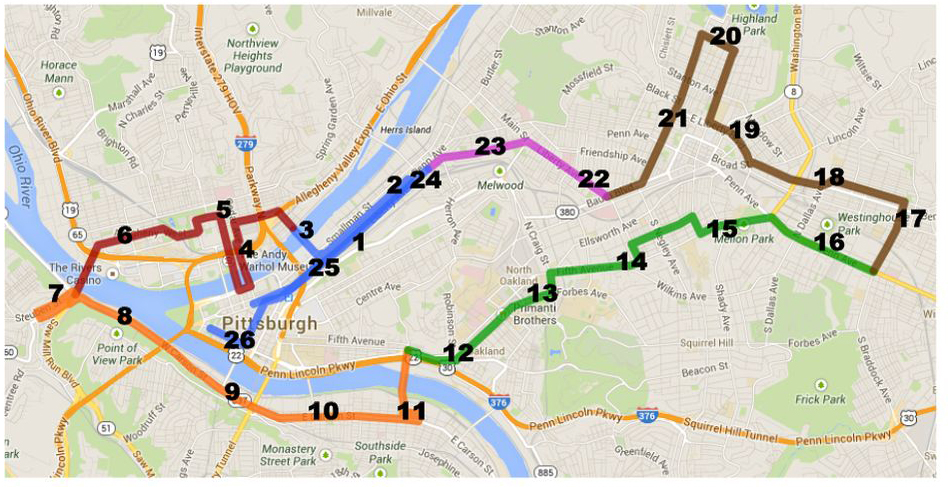 The Pittsburgh Marathon brings together 30,000 runners spread across the relay, half, and full marathon lengths. Since Pittsburgh is known best for its richly unique neighborhoods as well as the rivers and bridges that surround the city, the race itself takes full advantage of these by taking the course through 13 total neighborhoods and across all three rivers by way of more than five bridges.
The course for 2015 will be slightly different than the previous two years due to construction, but will ideally be similar in difficulty. For an example of what to expect, check out the 2014 full marathon map and half marathon map.
The race is a difficult one that's full of hills, including the grade that's on each of the bridges you cross. While difficult, the race is both fun and rewarding, taking place in a perfect time of year with generally great weather. While the training takes place in the freezing cold, the race's date of May 3rd promises the best chance of great weather and temperatures possible.
Health Notice: If you're planning on running any race and you're not an experienced runner, you definitely need to check with your doctor to make sure you're healthy enough to run a race. Don't start any training plan until you get the all-clear from your doctor first, and train at your own risk. The information below is provided for reference only.
Plans to Follow
While you could prepare for the marathon by yourself, following a running plan is by far the best way possible to get prepared. Most running plans for the full marathon started in January, but if you're experienced with running, you should be able to pick this up now without too much issue. If you're planning on running the half marathon however, you're right on time to start training.
Personally speaking, my favorite plans for running come from running legend Hal Higdon. His training plans run the gamut from extreme novice to extremely experienced runners that want to achieve a personal record, or PR.
To follow his plans you get two options. The free one (and the one that I follow) take a little bit of planning on your part, but give you the exact workouts to do every day, including rest days. Option two is to purchase a training program that adjusts to your needs and schedule automatically. The paid plans work via mobile apps and can be found here. The free options can be found here.
There are quite a few other training programs out there for running, but the best I've found are from Hal. This year I'm following the Intermediate 1 training plan using the free option.
Places to Run
Two of the most difficult aspects of training for the marathon for me are: 1. Finding the time to run and 2. Finding good places to run longer distances. The time aspect is up to you and your schedule, but when it comes to deciding on where to run, we've got you covered.
My shorter runs (less than 10 miles) are almost always done in Beaver. There are lots of side streets for you to run so you can change up your runs a little, and the grid layout helps you to incrementally add miles to adjust for the varying length of training runs throughout the week.
For my longer runs of 10 miles or more I usually head out of Beaver County and head out to North Park in Allegheny County. It's about a 45-minute drive, but the 5-mile loop around the lake at North Park is just about perfect for training. There are big hills, rolling hills, and straight-aways that together are a microcosm of the marathon itself. Also, the 5-mile loop helps you be less bored with your runs, as a 10-mile run only requires 2 laps.
Other than this, check out our post on places to run in Beaver County for more suggestions, but this method has gotten me through 2 marathons and countless other training sessions, so I strongly recommend it.
Shoes
When running the full or half marathon, you need proper equipment. Having proper shoes is the first step here, so to speak. Good shoes are vital to running correctly and something that you definitely should never skimp on. Remember, running shoes are only good for 300-350 miles, which might seem like a lot, but for full marathon training, this will only get you 3 months or less.
Speaking of shoes, getting the right shoes is more than just picking a color you like or a company you're a fan of. You need to put the fit and performance of the shoe first and the look second. Not saying you need to get a shoe that is ugly, but choose a shoe that fits your particular needs then choose a color inside that range of shoes. A good shop like Lloyds in Beaver will custom fit you for a shoe that works with your specific needs, and will help you run without injury.
The final word on shoes is about timing your purchase. You never want to buy a new pair of shoes within a month of the big race. Even if it's the exact same style and model shoe as you've had before, you need to break them in before you race. Even if your shoes aren't quite done yet, make sure you get new shoes no later than 1 month before the race. Your feet will thank you.
Clothing and Apparel
Since training starts in the winter months and the race is in the spring, you're going to need a variety of clothing and apparel to get you through training successfully. Clothing is another place you don't want to skimp on, as it keeps you warm, safe, and comfortable.
Staring with winter running, you need to run in clothing that keeps you warm from head to toe. This means cold weather tights on top and bottom, windbreaker pants, and a light jacket that's water-resistant. Beyond these basics, you should pick what fits you and your running style best.
When dressing for a run, use the 20* rule. Dress as if it was 20* warmer outside and you'll be comfortable once you get warmed up on your run. So, if it's 30* outside, dress so you'd be comfortable in 50* weather. If the temperature is below freezing, make sure you dress safely, as hypothermia and damage from the cold can be a concern, especially when you start sweating.
Some cold weather apparel you might want to think about include hats versus headbands to keep your ears and head warm as well as face masks to not only keep your face toasty, but also to keep you breathing warm moist air. Gloves are also something to think about, and are very much a personal preference.
Cold weather aside, most people tend to run with the least amount of clothing as possible, but that's a personal preference. One important suggestion here though is to incorporate compression items into your clothing choices. Compression tights, sleeves, and socks can help long runs. The most common compression choice is calf sleeves that just cover your calves in medical-grade compression. This type of compression helps muscle recovery and keep cramps and pain at bay.
Nutrition
It's no secret that running burns some serious calories, which is why many people run to lose weight. When training for a marathon however, you want to make sure you're eating enough and eating properly so you have the energy you need to run.
There's a great post from Runner's World that talks about marathon nutrition that's worth a read. Beyond this, the basic idea is that you balance your caloric intake with the ones you're burning on a long run. Remember, a 10-mile run can burn around 1,000 calories, so you need to take in an additional 1,000 calories that day to be balanced and refueled.
While running you need to have proper fuel as well, which usually comes in the way of gels and chews, many of which can be purchased from health food stores like GNC or running shops like Lloyds in Beaver. These should be used every 30-45 minutes of running, depending on your personal exertion. For me, I usually do one gel that includes caffeine in it every 6 miles or so starting at 10-mile runs and above. So, if I'm running up to 9 miles I don't use mid-run nutrition, but if I'm running more than 10, I fuel every 6 miles. This works for me, but you should fuel as your body needs to.
Cheat Day
The final important item with training for the marathon is your cheat day. Normally, my cheat day coincides with my long run days, since I have a thousand or more extra calories to use up, this is usually the day I choose to eat whatever I want and have a few beers.
Most training plans put weekly long runs on Sundays and a rest day or cross training on Mondays, so it's perfect to kick back with some comfort food and a beer and relax. My favorite cheat food comes from two places: Waffles, INCaffeinated in Beaver and Bowser's in Monaca.
If you need to get those extra calories in, you might as well do it in style and have fun doing it, right?
Everything Else
There's more to training for a marathon, but this is what I think is most important. Beyond this, you need to make sure you talk to your doctor before starting any training plan to make sure you're healthy enough to tackle a huge physical task like this is. Remember, you're going to be doing more physical exertion that you probably ever have in your life, so it's very important that you verify you're healthy enough to complete the undertaking. Personally speaking I have a physical, blood work, and even a heart MRI under my belt to make sure I'm good to go.
The Pittsburgh Marathon and Half Marathon are a few months off still, but time has a way of sneaking up on you, so get started now and have a good time. Oh, and if you're looking for me, I'm the guy with the racing bib that says "BEER ME" on it.