In my family, it is pretty common for a few of us to meet for breakfast on the weekends. Whoever starts the group text is usually the person to pick the restaurant and this weekend, it just so happened to be me. I picked Leone's Family Restaurant in Aliquippa, and my decision couldn't have been better.
As soon as I walked into Leone's, I got warm and friendly vibes. The woman behind the cash register welcomed us and told us we could sit anywhere we wanted. Almost immediately, a waitress was at our table pouring hot coffee and taking drink orders and at this point, I knew I was going to get treated like family. Since we were there at 9am, breakfast was the obvious choice, however, what to order, was not so obvious.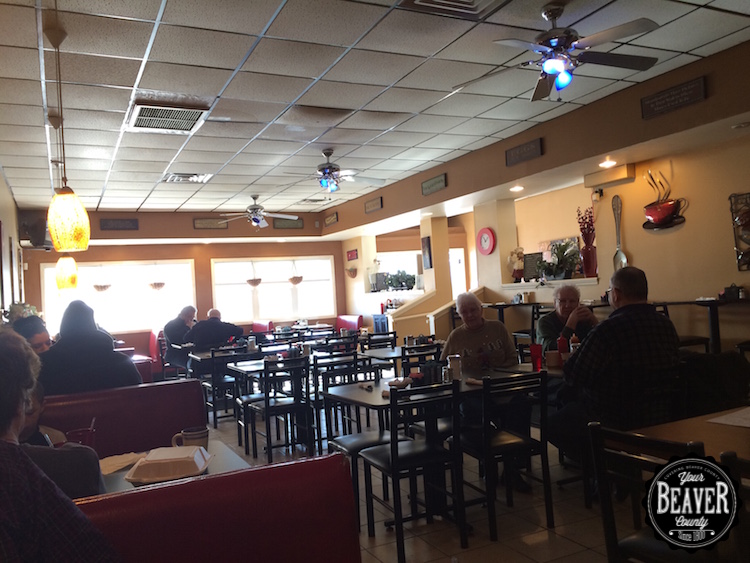 The breakfast menu is packed with endless items, both standard and specialty. For the usuals, they have eggs, pancakes, french toast, and sides of bacon or sausage, warm and cold cereals, and fried potatoes, among many others.
Notable items include the "Kevin Special," which is shredded hash browns, scrambled eggs, red roasted peppers, onions, and sausage, all mixed together with cream cheese and garlic, and the "Breakfast Skillet," which is eggs, home fries, and American cheese all scrambled together and topped with sausage gravy. If you're really hungry, the menu also offers a number of breakfast combos.
Everything sounded good and I was overwhelmed, so I pulled a sissy move and ordered what someone else at the table ordered as well. (But hey- power of persuasion, right?!) I went with a half of an order of the Italian Eggs, which were eggs, home fries, onions, and green peppers all scrambled together. And even though I ordered only a half of an order, when our food came out, a fully loaded plate the size of my head was placed in front of me. I shook a little sprinkle of hot sauce on the top of the mixture and away I went.
I don't know what it was about these eggs that made them taste like something out of heaven, (because honestly- eggs and vegetables don't really sound that appetizing to me) but they did. And if that doesn't convince you about how good this breakfast dish is, then this should do the trick: two of the others I was with (who have both been to Leone's plenty of times) ordered the Italian eggs as well. One topped them with cheese, and the other added bacon, but the bottom line here is that all three of us cleaned our plates.
Aside from serving breakfast all day long, Leone's offers lunch options as well. When it's not eggs and pancakes, they're serving up salads, wings, burgers, and any kind of meaty sandwich you can think of, ranging from a spare rib sandwich to a hot sausage one. I can't speak on lunch since I have never been, but being as good as breakfast was, I can only assume that lunch would be the same.
Overall, my experience at Leone's was pretty great. It hit the three main restaurant marks: good food, good service, and a good atmosphere. And actually, the food wasn't good, it was awesome and the service was top notch, too. To sum Leone's up: I felt like I was eating breakfast at a friend's house, and mom was serving it to me.
Leone's is located at:
2108 Sheffield Road, Aliquippa, PA 15001
Hours of Operation are:
Monday-Friday 7:00am-2:00pm and Saturday and Sunday 12:30am-2:00pm
Maura is a lifelong resident of Beaver County. She graduated from Center High School in 2009, and now lives in Patterson. When she isn't marketing new technology or writing for YBC, she enjoys spending time with her family, horseback riding, and hanging out with her super cute Cavapoo, Derby. You can follow her on Twitter @mauramendo.