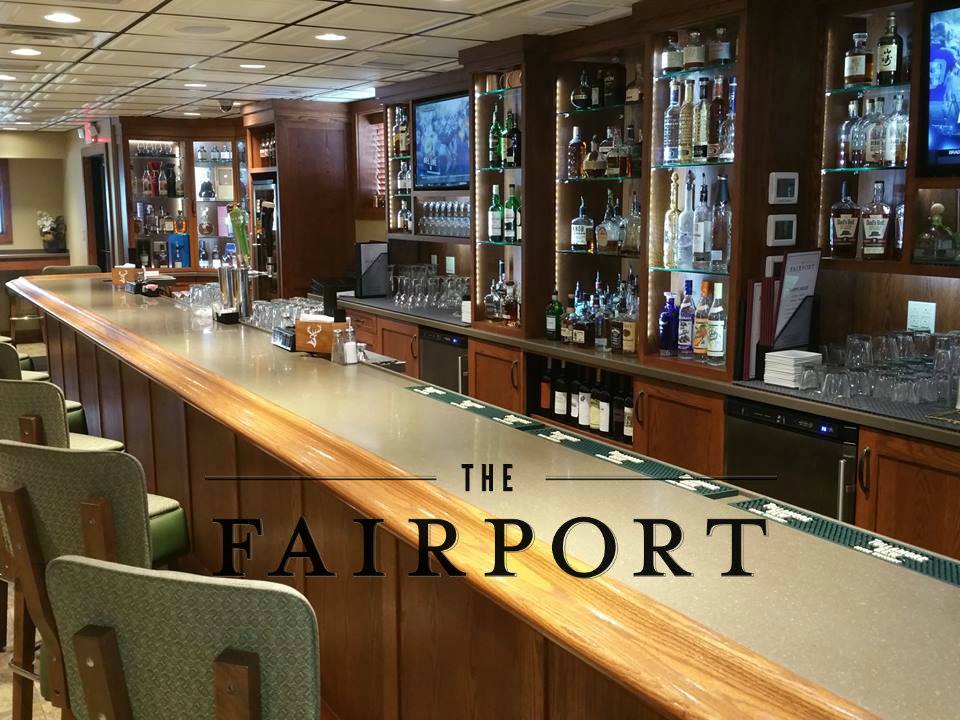 A few months ago, or.. geesh, over a year now! Andy wrote about a new restaurant named The Fairport and how amazing their menu, ambiance and food was! It has been awhile since we have discussed it in an article (even though, for the record, if you followed me on Twitter, you would have seen a few drool-worthy pictures of their food). Today is the day that changes.
First things first, The Fairport is truly the hidden gem of Beaver County. It's been said before about a few places, but this restaurant is right there with them all. It used to be The Hilltop which was a staple of the Beaver County steak salad scene for the entire life of the restaurant. Since it sold and remodeled, The Fairport is all new, except that steak salad thing. They are definitely still a staple in that category but in so many others, too.
On this particular day that I went in for lunch and to interview Chef Mike for this article, I (naturally) went with the steak salad with their house made fire-roasted tomato vinaigrette. I am most certainly one of those people that peruse a menu for 20 minutes and then go with the ol' standby. Because it is that good and I would regret not getting it, even when everything else on the menu is as equally delicious. I know this because I have glommed onto The Mister's meals more than once here (and, well, everywhere really). He has had everything from the Hot Roast Beef Dip to the burger, and pretty much everything in between on the menu and again. All fantastic. Before all of that though, you have to promise me that you will get the Hot Artichoke, Spinach and Cheese Dip that comes with warm, house made bread. Oh.. my heart.
The amazing part of this restaurant is that most of everything they sell is all made in house. The breads. The dressings. Wing sauces. Gravies. Soups. Desserts. CANDIES. This is, by far, the most impressive display of house made deliciousness I have seen in quite some time! In addition to the steak salads, they have a variety of different specials that go on throughout the week. Tuesday is family day. Your kiddos will get a ½ off kids' meal with an adult meal purchase. Having a few young kids, this is a great way to save some cash and get a great meal out. Next on deck, Wednesday wing special. That's right folks. The Fairport is a wing joint, too! From 6 pm -9 pm they offer 50 cent wings made in a multitude of sauce flavors for even the most particular wing sauce connoisseur. Of course you have your hot, medium, mild, garlics, but then they have things like Asian, honey BBQ or garlic parmesan. Chef Mike told me that if there is a flavor you want, they can create it for you.
Thursday, Friday and Saturday evenings are prime rib nights. They roast it slow all day so that come 4 pm, they are ready to carve. It comes with a starch, vegetable and your choice of soup or salad. If you aren't a prime rib fan (does that person exist???), Friday's are also fish day! Baked cod or, if you are feeling fun, you can have it fried. Again, it comes with your choice of starch, vegetable, soup or salad.
After dinner, The Fairport takes a turn into 'dessert town!' Their in-house pastry chef came straight from The Grand Concourse in Pittsburgh. If you are familiar with that restaurant, you might just opt for two plates of dessert. She whips up things like chocolate crème brulee, or whiskey pecan pie in addition to all of the house made breads and rolls on the menu. If that isn't enough to get you looking forward to dessert, they also have an entire menu of candies available. Truffles, buckeyes, peppermint patties, all amazing. But you will not even comprehend the smoothness and flavor of their butter mints until you try one. Melt in your mouth. No kidding.
AND then, The Fairport actually has their own whiskey hand selected for The Fairport by Knob Creek. There are other many higher end varieties of whiskey available as well, like a 15 year old Pappy Van Winkle. I challenge you to say that three times fast after a drink or two of it. If whiskey isn't your thing, they offer a full bar and a great selection of seasonally rotating beers too!
Well. If that isn't enough to draw you in, check out their deal here!! Actually they have TWO! One for lunch AND one for dinner! Use them both, take me with you and let's all group hug over some whiskey pecan pie. See you soon!