With the year drawing to a close, it's time to look back at 2014 and take a moment to appreciate how great Beaver County truly is. Not only do we have amazing long-standing businesses that have been here for 20 years or longer, but there is a constant growth that isn't often appreciated.
Businesses see Beaver County as a great place to take root and open their doors, and 2014 was a phenomenal year for just that. New businesses abound throughout Beaver County and 2014 gave us some of the best new places to eat, shop, and relax that you could ask for.
We went ahead and rounded up our favorite new businesses that opened their doors to the public in 2014 to show just how big new business is in Beaver County. From candy to stationary to meatballs, it's been a pretty great year.
While this isn't a comprehensive list of all businesses that opened in Beaver County in 2014, it's a great place to start. Have a favorite business that opened in 2014 that we didn't get to? Leave it in the comments so everyone else can see it too.
Dulcinea Craft Chocolate
Starting the list off is the only business on the list that sells a physical product that doesn't have their own storefront. Dulcinea Craft Chocolates made their move to a professional kitchen in 2014 which meant they could start selling their amazing line of chocolates and sweets to the public.
Owner Laurie Rice started making chocolate well before 2014, but this was the year that the stars aligned and lucky for us, we could start eating it. Unlike many chocolate makers, Dulcinea chocolates sources their cacao beans directly from their source in the tropics and from Latin America.
Laurie does business this way because it not only guarantees her the freshest and most pure product available, but also because it helps the small farmers earn a bigger piece of the pie, so to speak. She gets better chocolate, the farmers get more money, and we get the best chocolate around. Currently Dulcinea Craft Chocolates are only available at Sapling and Sons in Beaver, and they don't stay in stock long.
Grandpa Joe's Candy
Speaking of sweets, a new candy shop opened their doors in Beaver this year to the enjoyment of children throughout Beaver County. The quaint storefront gives way to a store that's packed with every type of sweet you could imagine.
Of course there's the basic candy bars and other assorted sweets, but go a little deeper into the store and you'll find a wide assortment of sugary sodas ranging from root beer to the weird and wild colors of drinks made mostly for kids. There's even a draft root beer station so you can get a big foamy cup of the kid-friendly beer.
There's bulk candy in the back of the store for people that need that one specific type of candy for a project or their personal candy jar, too. You'll also find gourmet marshmallows, fudge, and candy you'd expect to only find in England. Overall, Grandpa Joe's Candy is a great addition to the main street of Beaver.
Madam Mozzell Boutique and Salon
Food and candy aren't the only businesses to open their doors in 2014, a fact that Edwina DeVries can attest to. DeVries recently opened her beauty salon Madam Mozzell Boutique and Salon up to clients in Chippewa and so far has been a resounding success.
The key to Madam Mozzell is price and quality of service. They offer the basic services like cut, color, and styling as well as more intensive services like manicures, pedicures, facials, and even massages.
Sapling and Sons
With the reliance most of us place on email and communicating electronically, the joy of receiving actual mail is not often felt. This is one of the reasons Lisa Krowinski opened Sapling and Sons on 3rd Street in Beaver. The shop features stationary, cards, and an assortment of unique and kitschy products that seem to only be found here.
You'll find Christmas cards with Godzilla on them, a map of the zombie outbreak that happened in Pittsburgh, and even some prints from amazing local artists all in one place. Best of all, everything sold in Sapling and Sons is made locally in and around the Pittsburgh area.
The pieces are locally designed, printed, and sold to keep your money local and to reward local artists and businesses for staying in our area. If you're looking for a card for a holiday, birthday, or just to say hi, get the card from Sapling and Sons, the recipient will be glad you did. While you're at it you can pick a gift or two up here as well, maybe even some of that Dulcinea chocolate.
Dewdrop Gift Shop and Tea Room
Another great new local shop this year is calling Monaca home. Dewdrop Gift Shop and Tea Room features baked goods, a wide variety of specialty teas, crafts, and art and gifts from local vendors and artists.
There's always something different at the shop, making frequent visits a very good idea.
M&C Sweets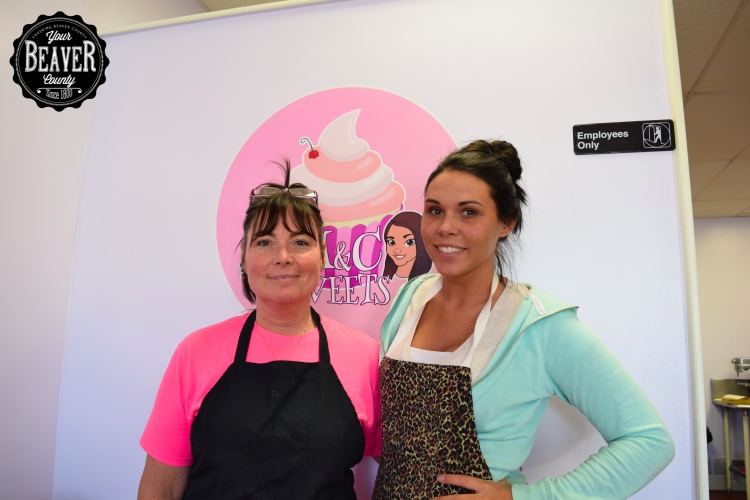 There's something special about a great bakery that the mass-produced cakes found at Wal-Mart and other big box stores just can't match. The mother and daughter team at M&C Sweets in Center started their own bakery in 2014 for this exact reason.
The business actually started with daughter Chelsea was in 9th grade and showed an interest in baking that mother Mary decided to support. Jump ahead to today and you'll find cakes, cupcakes, and cookies that are all made 100% by hand in their Lucci Plaza shop. M&C Sweets is the definition of a small family business and is definitely one that all of us at Your Beaver County plan on frequenting in the new year.
Beyond sweets and small local business, M&C Sweets is a shop that both mother and daughter have dedicated to the memory of Mary's daughter and Chelsea's sister Lauren, who died of cancer. A good deal of the money brought in by M&C Sweets goes to both Relay for Life and an upcoming scholarship in Lauren's name. In other words, getting your sweet fix here not only guarantees you'll get some of the best baked goods around, but help a family remember a loved one lost in the process. Seems like a win-win to me.
Editors' Note: M&C Sweets did an AMAZING job on the giant cupcake YourBeaverCounty.com ordered to commemorate breaking 10,000 Facebook fans!
The Ball Joint
Just about every post on YourBeaverCounty.com that had to do with food this year had at least one comment about The Ball Joint in Beaver Falls. This made us all wonder what was going on at the new restaurant to make everyone so vocal about them and after our very own Andy went to check them out we figured out pretty quickly that all those commenters were right.
The Ball Joint is an innuendo-laden meatball restaurant that also serves some amazing pasta and possibly the best French fries in Beaver County. Owner and founder Bryan Fyock describes The Ball Joint as a "fast casual" restaurant similar to the idea of Chipotle.
The attention to detail here is amazing and the food is as local as possible, making it even better. If you didn't get a chance to visit The Ball Joint in their inaugural year, make sure to hit them up in 2015, you'll be glad you did.
Shogun Hibachi
Something that Beaver County has definitely been lacking is a good hibachi restaurant. These restaurants offer a mix of dinner show and great food and really get you into the fun of the show. The first true hibachi restaurant in Beaver County came in 2014 with the opening of Shogun Hibachi at the Beaver Valley Mall.
If you've never experienced a hibachi restaurant before, you sit at a table around a grill with a group of people you may or may not know. The chef comes out with an assortment of uncooked food and prepares it right in front of you. Before he comes out you place your order so he has it ready to make when he comes out and the fun starts as soon as he starts cleaning the grill.
Shogun Hibachi is bright and clean inside with a great atmosphere and an amazing team of hibachi chefs. Grab a few friends and head out to Shogun Hibachi in Beaver Valley Mall for dinner and a show to celebrate the new year.
Heirloom Restaurant (Honorable Mention)
An honorable mention for new businesses in 2014 is definitely Heirloom Restaurant in Beaver. You may know the location as the former home of Levanti's Restaurant, which was redone on the TV show Kitchen Nightmares. Heirloom took the place of Levanti's and opened their doors for business in December of 2013, which is why they've earned an honorable mention since they were a few weeks outside of 2014.
Heirloom was opened by Rich Montini from Center, who just happens to be for former executive chef for PNC Park. Thanks to his professional training, Montini has helped craft the Heirloom menu into something that's unique and diverse while offering crowd favorites with a high-end twist.
Everything at Heirloom is made in-house and sourced as locally as possible to keep food as fresh as possible and your experience as good as it can possibly be. With a location like it has and a menu that speaks for itself; Heirloom did well in 2014 and looks to be even better in 2015.
Your Beaver County
Finally, our list wouldn't be complete without giving a shout out to ourselves. YourBeaverCounty.com was founded in 2014 by Andrew Selby, a Center native and current Monaca resident. Andy started YBC in hopes of showcasing all that Beaver County has to offer.
Being so close to a city like Pittsburgh that is currently experiencing a renaissance like it has never seen before can be somewhat imposing for a small somewhat rural county, but as Andy has helped to showcase, Beaver County is far from just a neighbor to big things, but instead has quite a lot to offer as well.
YBC is helping to showcase the businesses both small and large throughout Beaver County and is helping to shine a spotlight on what many of us know as one of the best areas in Pennsylvania. From amazing restaurants to outstanding small shops, Beaver County is one of the best for sure.
Andy and YourBeaverCounty.com has helped me and all the other writers on staff to talk about the places and people we love and to collectively tell the story of our favorite place to be, Beaver County. To you the reader, I'd like to say thank you for an amazing year and for helping us to bring you great content and even better businesses and people. You're the reason Beaver County is great, so let's make 2015 even better and show the world what a great place Your Beaver County really is.