I went for quite a few months without seeing a listing that I got really excited about, and then all of a sudden I got hit with two in one week. I wrote about an amazing 4-bedroom home on Todd Lane last week, and the other one that caught my attention this week was this 3-bedroom house in Center Township's Woodhaven neighborhood after Brooks Construction.
I'm always looking for something unique that a particular house has to offer, and it doesn't take much more than a quick glance to see that everything about this one is going to be exactly that. I mean….you can drive right through the middle of the house. How unique is that?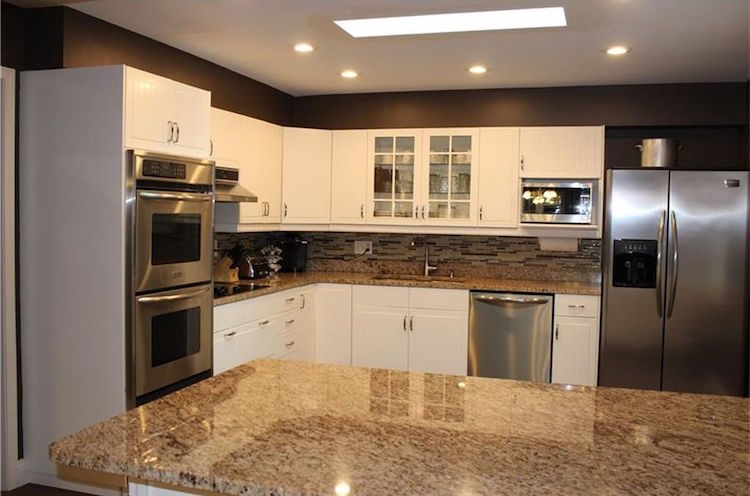 In addition to having a totally unique structure, this home has also been completely updated from top to bottom. It's got the granite countertops and stainless appliances that everyone freaks out about on HGTV, and it's also got that open floor plan that is perfect for entertaining.
Here's an even better look at just how open this place really is.
Adding to the list of unique features that you just aren't going to find anywhere else, each of the three bedrooms here have their own private balconies.
Still not impressed? Check out this sweet kitchenette on the lower level that is right next to the room with a 96-inch projection TV!
Things get even better when you head out back, where there is plenty of space and an equal amount of privacy. Between the fire pit, the pond, and the basketball hoop, I could spend pretty much my entire summer out here!
This totally updated and very unique home is located at 100 Radcliff Dr in Center Township, and it is currently listed for $319,900. If you would like to make an appointment to see it for yourself, just fill out your information below and one of our partner agents will contact you to set up a time.
Andrew is a professional freelance writer and lifelong resident of Beaver County. He created Your Beaver County to promote and showcase all of the positive aspects of our incredible local culture! You can find more of Andrew's professional information at Brooklyn Content, or you can also follow him on his personal twitter account, @theAndrewSelby.